Leeds care company fined £190,000 over death of disabled resident in fall
Kevin McNally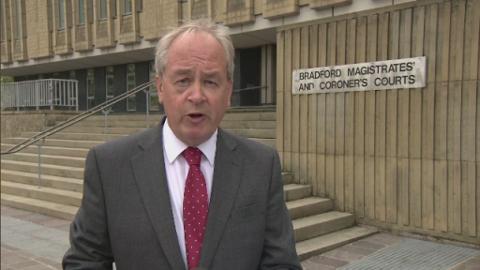 Play video
A care provider has been fined £190,000 following the death of a disabled resident who broke his neck at a nursing home in West Yorkshire.
Watchdog the Care Quality Commission prosecuted Leeds-based St Anne's Community Services after 62-year-old Kevin McNally died at the home in Smithies Moor Lane, Birstall, in April last year.
Bradford Magistrates' Court was told that Mr McNally, who had Down's syndrome, epilepsy, dementia and a severe learning disability, had lived in the nursing home since 2012.
In April 2015 two care workers had gone to Mr McNally's bedroom to help him take a shower using a shower commode chair. The shower chair fell forwards while he was loosely strapped in. Staff attempted to resuscitate him, but he was pronounced dead in hospital.
Jenny Ashworth, prosecuting, told the court that the provider had failed to adequately control the risk of serious injury and the accident was avoidable.